Solutions for Local Councils
OAK Telecom has extensive experience in providing reliable and cost-effective Wide Area Networks (WANs) for local councils and government departments.
Our preferred WAN is called an Ethernet Private Network (ePN-WAN). It is a modern network, with low latency and jitter, centrally hosted in a state-of-the-art data centre.
The ePN-WAN incorporates excellent security and enables future services, whether provided from head office or via the cloud, such as SaaS, DRaaS, IaaS and the ePN-WAN can include mobile employees or vehicles as required.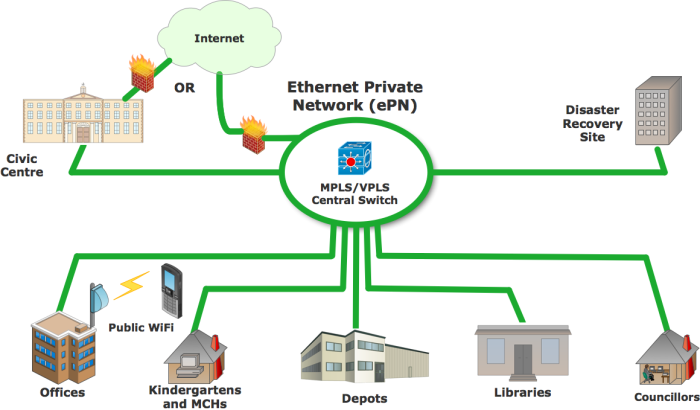 The ePN-WAN for Local Councils provides many benefits, including:
Simple for users (just like a blue cable); simple set-up and connections

Completely secure, requiring no firewalls or encryption between offices

Access to the internet centrally, either through the head office or direct to the WAN core

SaaS, DRaaS, IaaS and other Cloud Services via the Internet or the Data Centre

As a Layer 2 network, it requires no complex co-ordination of IP addressing

Low jitter and latency across the network

Single point-of-contact for all external services

Different grades of service and multiple VLANs available to meet your needs

Can handle IP telephony and/or Public WiFi services across all sites with QoS
Case Studies
The following case studies are examples of how OAK Telecom has provided innovative, low-cost solutions that have suited different kinds of councils in different ways: